The Southeast "Green Team" was founded by our VP of sales and marketing, Lonnie Port.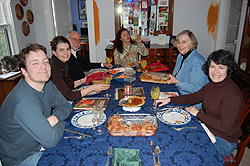 After their first project—cleaning bus stops on Woodstock Boulevard—the Green Team (Lonnie Port, Dan Steigerwald, Carey Collins, and Bill Steimer) met to plan their next activity.
Someone suggested that the team and their spouses get together for a sustainable potluck supper, providing an opportunity both to think about sustainable eating and other topics related to reduce/reuse/recycle and to get their spouses on the team.

The first dinner took place at the height of the harvest in early September. Instructions were simple: bring a dish prepared with locally grown ingredients and be ready to talk about the choices made at every stage from preparation to disposal of waste.
The goal was to reduce the carbon footprint of our food consumption, bearing in mind that the transport of food, especially prepared and refrigerated food, uses a tremendous amount of energy.
Four couples arrived bearing a veritable feast including lamb casserole with eggplant and applesauce, tomato and cucumber salad with basil, roasted carrots and potatoes, wheat berry salad with apples and mint, and peach cobbler.
All the dishes were home made, and all of them were delicious. Ingredients came from Farmers' Markets, backyard gardens, farm shares (CSA's), and even the grocery store. Our conversation covered such topics as solar energy, IKEA packaging, recycling in Holland (where Dan and Ann Steigerwald had lived for many years), and the possibility of recycling styrofoam with orange extract. We came from varied backgrounds and ranged in age from thirty-something to sixty-something, but our common interest in environmental issues pulled us together. We all pronounced our dinner a success and have eaten together monthly ever since.
Here are some of the things we have learned about what it takes to be a sustainable cook:

Shopping
Ask questions about the origins of produce
Buy in bulk
Shop at local Farmers' Markets
Shop where you can use your own reusable containers for some products
Use canvas bags at the grocery and Farmers' Market
Avoid using plastic bags for produce (bananas, for example, don't need a bag)
Look for liquid products in glass bottles rather than plastic
Look for packaging that is easy to recycle, not a mixture of paper and metal and plastic
Grow a few vegetables in your garden or patio if you have enough sun*
Join a farmshare (CSA) or visit local farms where you can pick your own produce

Recycling*

Recycle plastic bags at the grocery or Far West Fibers—never in curbside recycle bin
Recycle packaging (cereal boxes, egg cartons, etc.) that is not permeated with food waste
Don't recycle styrofoam meat trays or other wrapping that has food on it (greasy pizza boxes, butter wrappers)
Compost vegetable waste and eggshells if you have a place to do so. If your space is limited, start a worm farm.

Cooking

Make things from scratch
Make double batches of recipes and freeze half or use leftovers for lunches
Grow a few (or a lot of) vegetables in your garden or on your patio if you have enough sun
Freeze and can summer produce for winter meals

Eating
Enjoy the taste of locally grown food
Try not to use paper plates or disposable eating utensils and cups
Try new fruits and vegetables you find at Farmers' Markets
Support restaurants that buy local produce and meat
Teach your children to cook so that they won't become reliant on fast food

Cleaning Up*
Use reuseable, washable cloth towels and rags, not paper towels
Wash dishes only when the dishwasher is full
Try using half as much dishwashing detergent as the manufacturer recommends
*Pamphlets on recycling, organic gardening and house cleaning are available from Metro