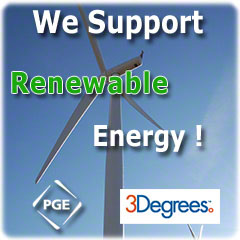 "Mike at Oregon Website Design Absolutely Went Above and Beyond This Time!!"
"We're a small local business; and after being taken advantage of by another web hosting/design company, Mike came to the rescue and got a temporary web site up and running within 24 hours of having our site and e-mail shut down…during the Holidays!"
"Mike exceeded our expectations; not only in the design and implementation of the web site, but also in making sure the site can be easily found (#1) on all major search engines. All this, and the project was completed below budget and in significantly less time than discussed. The result was a site far superior in every way to our previous site." Thank you again so much! Love the new site!
~Valorie - Ideal Door Components
"One company stood out from the crowd - Oregon Website Design ..."
"As a local small business owner in Portland it was important to me to have local website support. Since finding them in 2006, I have been reminded at every juncture of development and help of my great decision to go with Oregon Website Design."
"Their unparalleled attention to detail and excellent customer service is by far an outstanding attribute that cannot be understated. Thank you guys again for a job well done - I look forward to more years of our successful partnership."
~Mike Kelly, Owner - PDX Flyers
"... excellent webmasters"
"Oregon Website Design have been excellent webmasters, and I would not hesitate to recommend/refer them on future projects. Cheers!"
~Michele Limas - American Society of Plumbing Engineers
"We couldn't be more pleased with the attentiveness and creativity in meeting our objectives ..."
"Oregon Website Design took our "blah" websites and turned them into wonderful resources for our clients, as well as invaluable tools for our employees."
"The immediate response time, knowledge, and expertise have been significant assets to our business. Thank you for taking such a personal and professional approach with us."
~Kyra L. Matkovich - Empire Pacific Risk Management Inc.
"The icing on the cake is that Oregon Website Design is local to the Portland area so the website work is done by local professionals, not off shored to India....now that is a really nice change."
"I would highly recommend them to any firm or entrepreneur looking for website design and development. I was given prompt, straight forward, fair and friendly service."
~David Warner, President - Premier Auctions
"I give Oregon Website Design my highest recommendation for anyone who wants a positive experience in looking to start up their website."
"When shopping around for a website designer, I knew instantly that Oregon Website Design was the company for me. They were extremely helpful in explaining website design and hosting concepts in laymen's terms without making me feel incompetent in any way. They worked hard to customize my website to my needs and specifications and went above and beyond in teaching me how to update and maintain my website."
~Shira Fogel, President - Custom Beaded Jewelry by Shira Design
"Choosing Oregon Website Design is the best decision we could have made for our website!"
"The quick turn around on our website changes is always amazing and the one on one attention to detail never spared. I want to say thanks to Oregon Website Design. It's great knowing we have such a dependable and knowledgeable company in Portland. Thanks again!"
~Sheri Ognianov - VIP Collision Center, Inc
"The website turned out beautifully!"

"Thank you so much for all of your great work on our website! We know it will be an asset to NWCEO. Thanks again."
~Kaaren Heikes, Executive Director - NWCEO.
"Oregon Website Design ..... better than any other firm we have dealt with."
"Oregon Website Design straddles the gap between business need and technical ability better than any other firm we have dealt with. They keep their eye on what we are really trying to achieve, which is more sales. They dismiss elements that may be the latest in technology, but don't achieve our sales goals, saving time, energy & money."
~Kent Lane, Managing Director - HIPAA Solutions Rx
"... the best customer service I have ever experienced from any company."
"I have been a customer with Oregon Website Design since 2004 and over the past 8 years, I can honestly say, I have received the best customer service I have ever experienced from any company. Many companies these days can't even grasp the meaning, let alone, actually provide great customer service. Keep up the great work!"
~Ron Tosh, President - Tubs To Go